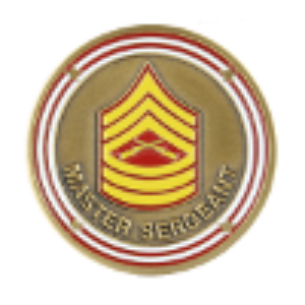 A master sergeant is the military rank for a senior non-commissioned officer in the armed forces of some countries.
The eighth enlisted grade, ranking above gunnery sergeant and below master gunnery sergeant, sergeant major, and Sergeant Major of the Marine Corps. It is equal in grade to first sergeant, and is abbreviated MSgt In the U.S. Marine Corps, master sergeants provide technical leadership as occupational specialists at the E-8 level.
Most infantry master sergeants serve as the operations chief of a weapons company, in place of the gunnery sergeant found in the company headquarters of a rifle company. Infantry master sergeants also serve as the assistant operations chief in the S-3 section of the headquarters of an infantry regiment and Marine Expeditionary Unit and in the G-3 section of the headquarters of a Marine Expeditionary Brigade. The Marine division and Marine Expeditionary Force headquarters contains two infantry master sergeants, one as the training SNCO and the other as the readiness chief.
Some combat support battalions have master sergeants at the company level (e.g., one as the tank leader, again replacing the company gunnery sergeant, in the operations section of the tank company headquarters, and two in the company headquarters of an assault amphibian company, one master sergeant as the company gunnery sergeant in the headquarters section and the other as the section leader of the company headquarters AMTRAC Section).
In Marine aircraft squadrons MSgts usually serve as SNCOICs of the ordnance and avionics divisions in the aircraft maintenance department. The Aircraft Maintenance Chief/SNCOIC is usually a MGySgt (q.v.), and there are eight aviation-related MSgt billets in each Marine Aviation Logistics Squadron (MALS). (A MALs is organic to each Marine Aircraft Group (MAG) and performs intermediate aviation supply, aircraft maintenance (including aviation life support equipment and avionics), and aviation ordnance support for its supported aircraft squadrons.)
Most non-infantry master sergeants serve as section chief/SNCOIC of their MOS type staff section in a battalion or higher level headquarters. General command leadership at this paygrade is provided by the separate rank of first sergeant.
Only in the Marine Corps are master sergeants required to be addressed as "master sergeant". In the Marine Corps, master sergeants may be referred to by the nickname of "Top". This usage is an informal one, however, and would not be used in an official or formal setting. Use of this nickname by Marines of subordinate rank is at the rank holder's discretion. In the U.S. Armed Forces, all master sergeants (Army, Air Force, and Marine Corps) are senior non-commissioned officers (i.e., pay grades E-7 through E-9). However, in the U.S. Marine Corps, the non-commissioned officer ranks of staff sergeant and above, are classified as Staff Non-Commissioned Officers (SNCOs), a classification that is unique in U.S. usage to the USMC.
1 Requirement
Reach a balance of 2000 Credits
People who have reached this rank: